Christmas Season is Here!
By now your student should have received information about the current fundraiser for Wood Mountain Christmas Trees and Greens. Wood Mountain has been helping schools and non-profit organizations raise funds for over 30 years.
Going into this 3rd year of fundraising with Wood Mountain, we have continued to partner with Wood Mountain Trees not only because they have a stellar reputation, but because we believe this fundraiser, as long as ALL STUDENTS participate, has the ability to raise literally thousands of dollars for our program. You can learn more about Wood Mountain from their webpage, by clicking this link www.woodmtn.com.
If each student were to sell a minimum of 3 trees, we could potentially raise a much-needed $10,000 for our program! Wreaths and garland will help; however, trees are a major factor in accomplishing our ambitious goal!  All pre-orders AND MONEY* are due either ONLINE or to Mrs. Trias by Tuesday, November 15, 2016. (*Checks should be made payable to the TVHS Band Boosters.)
Everything needed was included in the fundraising packets. Links to the PDFs are included in this email:
Information Sheet and Incentive Outline
Order forms  – Should you need more, please contact Mrs. Trias or pick them up in container closest to the Board next to the Band Room entrance.
FAQs – Answers to the questions you may be faced with as you pre-sell
ONLINE ORDERING is available. We ask that all using this method consider donating $2.50 in their order to offset the fees related to this convenience.
Trees are cut down in the Pacific Northwest 72 hours prior to their delivery and will be available for pick up at TVHS on December 4th.  More information on pickup hours will follow. *Note TVHS Golden Valley Regiment will not offer delivery*
If you or any of your customers do not wish to purchase a tree, please consider the "Trees for Troops" program.  A beautiful Douglas Fir can be purchased and will be delivered to a military family for the holidays.
Please let all know that the Cross Wreath ($40) is a new item available for purchase and not shown on the flyer.
As explained to the students, these trees, wreaths, and greens do sell themselves, but they need to ASK friends, neighbors, and family for their support. Returning students should consider approaching previous customers as well as local families of Band/Guard Alumni. These are happy customers who would gladly support YOU!
If you have any questions, please contact Mrs. Trias or another Booster Board Member.
Your support is always appreciated!
PDF Downloads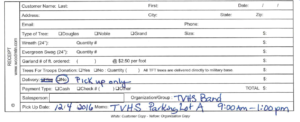 (single; please print two and give one copy to the customer and one to the boosters box)
Link to Order Online